Dr. Christopher W. Tsang
Otolaryngology, Pediatric Otolaryngology, Otology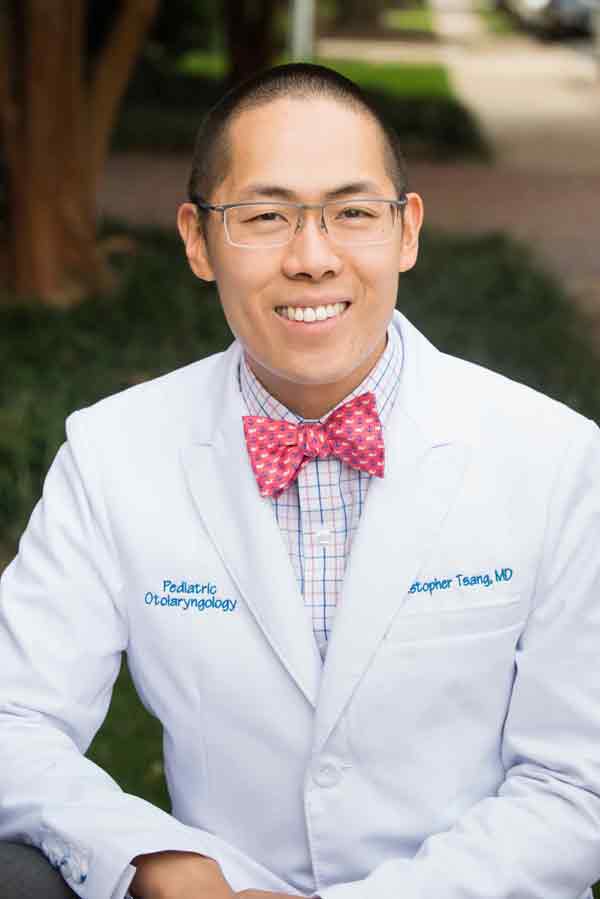 Dr. Tsang is originally from the New York City metro area, but is well-acquainted with the DMV region, having attended Dr. Christopher TsangGeorgetown University for his undergraduate studies. He went on to receive his M.D. from Tufts University School of Medicine in Boston, MA. He remained in New England for his otolaryngology residency, training at multiple hospitals including Tufts Medical Center in Boston, Rhode Island Hospital (Brown University), and Boston Children's Hospital (Harvard University). After finishing residency, he completed a one-year fellowship in pediatric otolaryngology at Nemours Alfred I. DuPont Hospital for Children in Wilmington, DE.
Dr. Tsang is well-trained in all aspects of otolaryngology, but is particularly interested in otology (hearing loss, dizziness, chronic ear diseases, cochlear implants/implantable hearing aids, endoscopic ear surgery) and pediatrics (congenital masses of the head and neck, sleep disorders, allergy and immunology, breathing/swallowing disorders, cleft palate and speech disorders). He is board certified by the American Board of Otolaryngology and holds memberships in the American Academy of Otolaryngology – Head & Neck Surgery, as well as the American Society of Pediatric Otolaryngology. He recently also joined the Craniofacial team at Inova, specializing in treatments of children with cleft lip and palate, as well as other craniofacial disorders. Dr. Tsang has authored or co-authored multiple publications in peer-reviewed journals, as well as several chapters in otolaryngology and pediatrics textbooks. He has also presented multiple times at national and international conferences.
Dr. Tsang currently lives in McLean with his wife Jessica, who works as a consultant in the international human rights sector, and their mildly anti-social dog Riley. His out-of-office interests include the New York Yankees, Georgetown basketball, culinary tourism, Pixar movies, and bow ties.
Credentials and Certification:
Pediatric Otolaryngology Fellowship from Nemours Alfred I. Dupont Hospital for Children, Wilmington, DE 2018
Residency in Otolaryngology – Head & Neck Surgery from Medical Center, Boston, MA 2017
Doctor of Medicine from Tufts University School of Medicine, Boston, MA 2012
Bachelor of Arts (cum laude) from Georgetown University, Washington, DC 2008
Languages:
Dr. Tsang speaks following languages:
English (native language)
Spanish (conversational)
Chinese – Mandarin (fluent)
Chinese – Cantonese (conversational)